Now you know I like a racing quote – this site is inspired by the iconic Steve McQueens quote after all !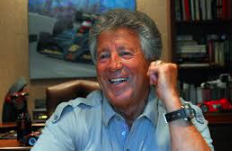 Mario has some good ones too though  – here are my favourites –
1    "If everything seems under control, you're just not going fast enough"
2    "If you wait, all that happens is you get older"
3    "I see all these old people who don't have anything to do but eat, drink and sleep. I will never say "retired" because thats such a finality that I don't want to be a part of my life. – I'll work until they throw me in a box"
What's your favourite ?