When I was trying to find the best price TAG watches, I was faced with a huge array of suppliers online. I found the guys at ewatches to be more than ok – make your own mind up, but it worked for me ! Here's my TAG watch – my pride and joy !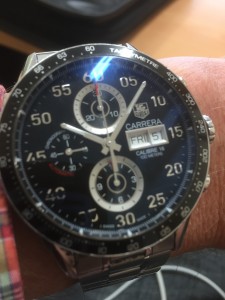 I guess I was drawn to the brand as through my formative years being very into motorsport, TAG Heuer was heavily promoted – so guess what ? – marketing works !
For me to find the best price TAG watch, it took a lot of work ! My personal favourite watch brand (as you have no doubt already worked out by now) is TAG Heuer, for no particular reason – apart from the fact that I just love the look – it took me 40 + years to eventually buy myself one (on a credit card that I really shouldn't have loaded up) and even then  I only bought it for myself as a "reward" for getting through prostate cancer (for now anyway !)
Click here to see some great watches (all brands including TAG) at discount prices – it worked for me !
Being honest, if you buy anything from ewatches, I'll get a small commission – but if I don't get it, someone else will whose page you havn't read !