Could he be competitive after 6 years away from F1 ? He's definitely been missed…..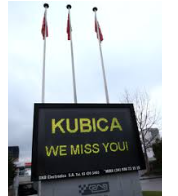 Renault F1 say he is not on the list for 2018, but they did give him a test in an older F1 car, in which, over 115 laps, he outpaced the teams current reserve driver, Sirotkin….
Apparently his injury is healed sufficiently to drive an F1 car – fast – they may have to modify the shift paddle arrangement so that he can operate it one handed, but that's not thought to be an issue at all.
Being "not on the list" is a bit like saying "there are no plans at this time" – an attempt to shut everyone up and deflect speculation……
What a story if he came back !
Thoughts ?