After a "see saw" season so far, during which Lewis Hamilton, when compared to Nico Rosberg, has been the fastest and also the unluckiest driver – who is going to raise the crown in 2016 ?
If Lewis wins all three remaining races, and Nico is second – Rosberg is the champion. So Lewis has it to win, and Rosberg has it to lose…..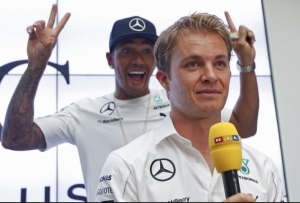 Lewis already has 3 F1 championships. Rosberg is vying for his first, so is also highly motivated…
Answers on a postcard please….